Anyone who has ever been involved in a car crash knows that recovery time is not the only thing that requires waiting and patience. At Sears Injury Law Firm based in Seattle WA, we know the pain and perseverance recovering from an auto accident requires. But what about the process of receiving the injury settlement that you rightfully deserve? We are here to help explain the why and when of receiving a settlement claim as the result of an auto accident. 
It's important to note that each car accident case is unique, therefore making the turnover rate of each settlement different as well. Each insurance company varies and so do their processes. The purpose of this article is for us to help inform you on what the process of receiving an injury settlement looks like with the legal assistance of an injury attorney near you.
 What does an injury settlement cover?
An injury settlement entails all the expenses the party at the fault for causing the car accident is liable for. Expenses resulting from the crash entail:
Medical bills past, present or future

Lost wages from a gained impairment or disability

The emotional, mental, and physical suffering that requires any type of treatment

Diminished quality of life
While some of the damages may be hard to identify from the human eye, documenting any symptoms that have occurred after your auto crash, and then having the information validated by a healthcare professional is a crucial step in helping get you an accurate settlement amount in any case. With a legal consultation with our office at Sears Injury Law Firm in Seattle, we can help you identify the cost you need and deserve. You shouldn't have to figure out the legal do's and don'ts of your case, and by working with our reliable and experienced law team, you won't have to do it alone.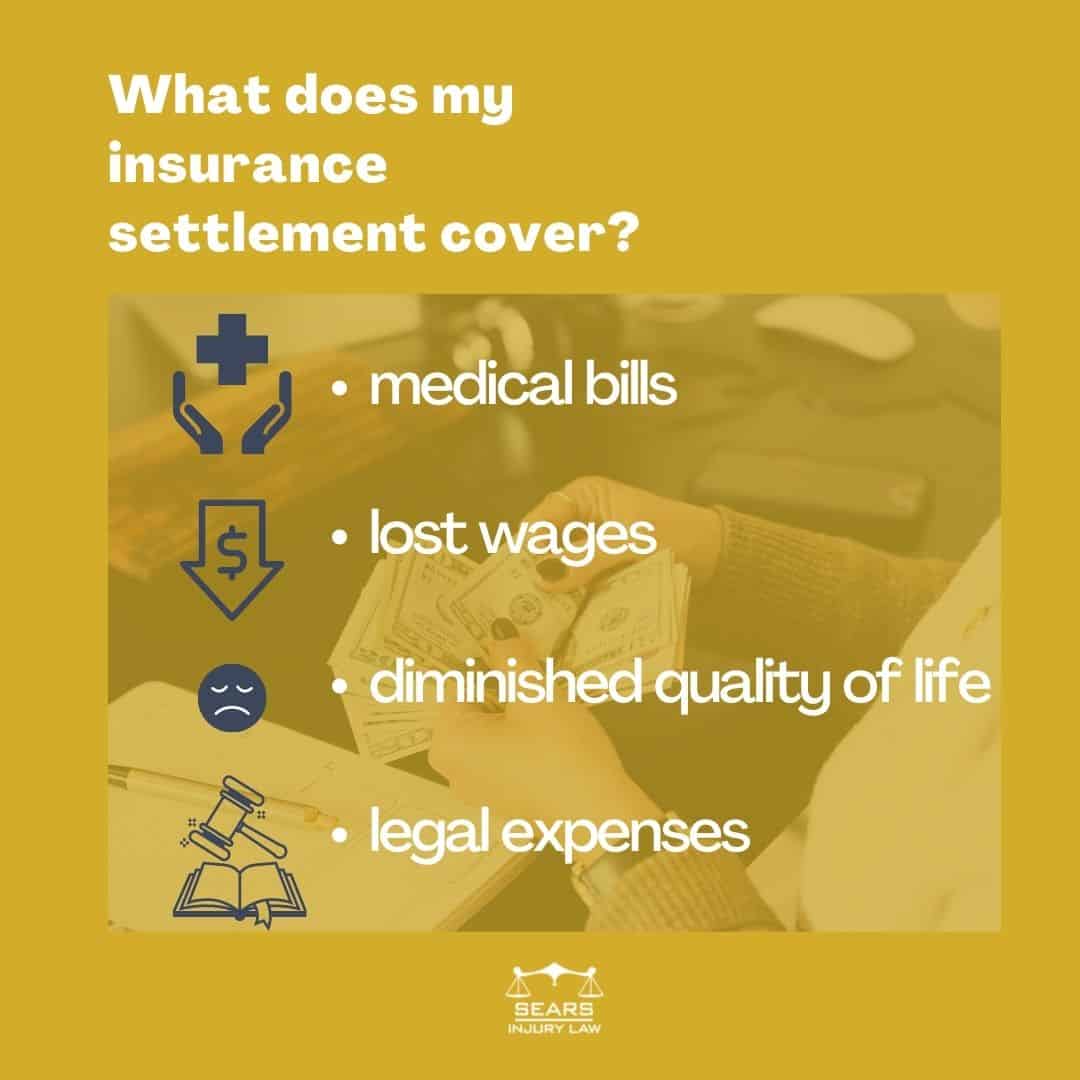 What occurs in the final settlement stages?
When both the liable and afflicted party agree on a settlement amount, this initiates the end of the settlement process and drops the liability between both individuals. How long does it take to reach an agreement? Again, this varies from each case, lawyer, accident case, and insurance provider. All of these groups have to work together to reach an agreement that is both fair and reasonable. 
During the process of coming to a settlement, the two parties of an injury attorney and liable insurance company will negotiate different counteroffers. In time, they will come together to agree and compromise on the settlement amount. With the negotiation coming to an end before it is signed and closed, your lawyer will consult with you to ensure it is a deal that will cover your expenses and be an amount that you think is fair. 
Once you've agreed and accepted the terms and settlement amount, your injury lawyer will draft a legal settlement document that entails everything you've agreed upon.

How long does it take to receive my settlement?
After you have agreed upon certain conditions and a settled amount, it still may take some time for both parties to agree. It isn't uncommon for the liable party and insurance companies not to agree with the terms or wording of the drafted legal documents for the settlement, and may take a couple of weeks for your lawyers to revise the release agreement in correct wording where both parties are satisfied.
The purpose of the release agreement isn't necessarily to have one party point blame, and the other admit fault. The insurance company of the liable party is paying you to cover the cost of damages and to prevent you from taking any further legal action against them; not claiming fault for the damages done. When both parties sign the release agreement, it is essentially stated that by signing, all the rights to take further legal action on making claims or demanding more money are released. 
Due to the nature and complexity of ensuring the correctness and preciseness of your release statement, it may take anywhere from 1-6 weeks for you to receive your settlement amount after you have agreed and signed the document papers. After receiving your check, your lawyer will deduct the amount agreed upon at the beginning of their contract, and you will get more than adequate funds in helping cover the costs of your car accident injuries.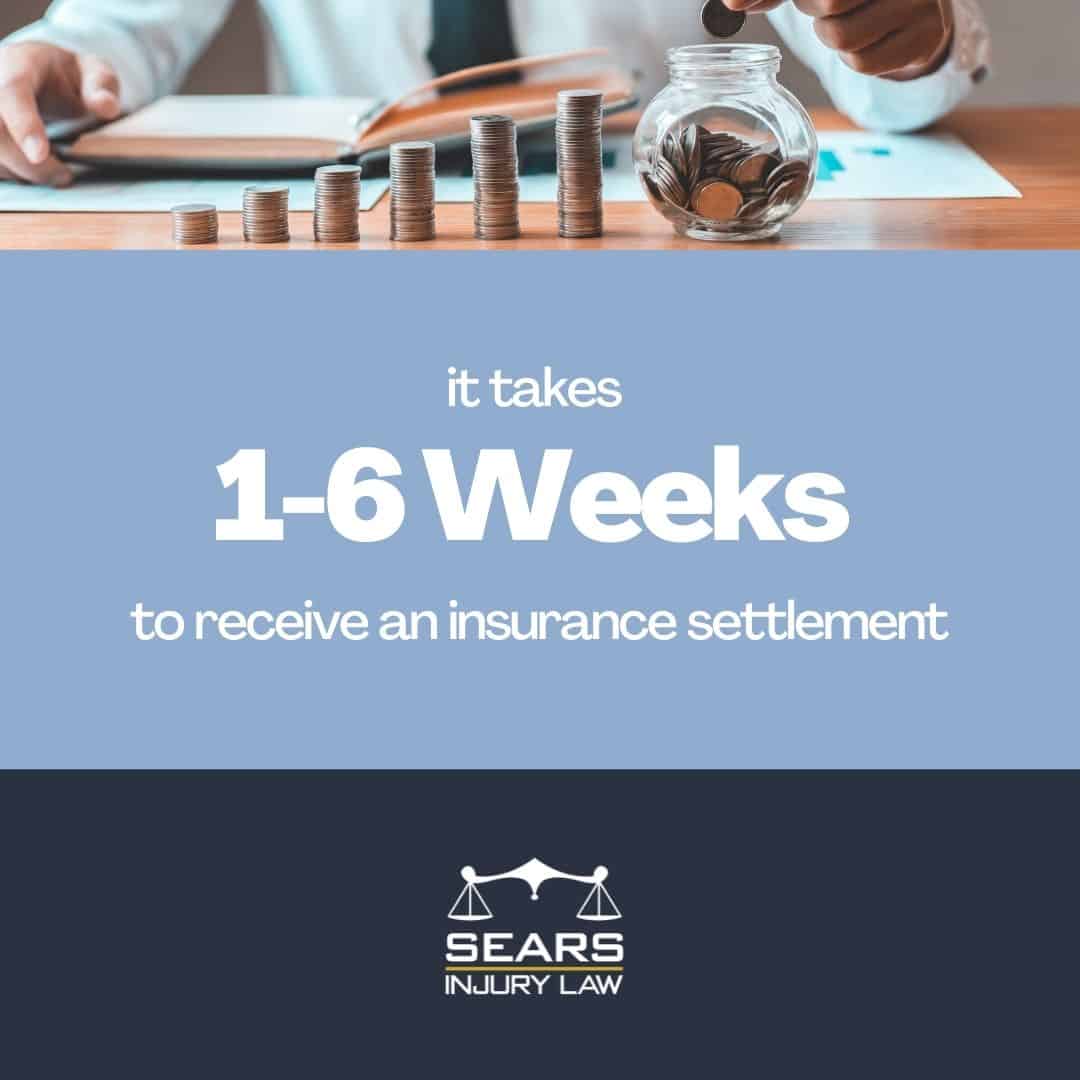 Why should I hire a lawyer to make an insurance claim?
You may even be asking yourself, "why should I consider hiring a lawyer to help me with a car accident claim?" And our answer to you is, "because you deserve it". After you've experienced a traumatic car accident that wasn't your fault, you don't need the added stress of trying to obtain the compensation you legally deserve. 
At Sears Injury Law based in Seattle, WA, we work earnestly to ensure you get the legal assistance you need to receive the settlement amount you deserve. Our main priority is getting the job done at the highest level. We promise that you will receive nothing less than the best results. At our law firm, we are known for being reliable and respectable, giving our clients only the best of results and legal help they need. 
We understand that each case is different and varies in circumstance, and that's why we'll do our best to make sure the legal aid you receive is personal and individual to your needs. Our team consists of experienced lawyers, caring paralegals, and attentive investigators that will be readily available and 100% all in settling your case in a timely manner. 
If you have recently been in a car accident, we don't want to see you suffer. So, let our years of injury law expertise help you get the justice you deserve today! Give our office a call at 253-285-7444 to schedule a legal consultation, or visit our website searsinjurylaw.com. We look forward to seeing and assisting you soon!
recovering millions monthly
Offices open 24-7
Call Us to get fair and reasonable legal representation for your injury.