Stay safe during severe weather and super icy roads conditions
With the ice storm that recently happened in Washington, people have been posting videos on social media depicting the shocking icy road conditions. In hilly areas such as Seattle, residents were filmed crawling up hills on their hands and knees and wearing mountain-climbing spike crampons on their shoes to get traction. Many parked cars slid down the hills, hitting other parked cars like a domino effect as they went until many cars were bumper-to-bumper at the bottom. 
When the road is icy, it's incredibly easy for your tires to not have traction and for you to lose control of your vehicle. In Washington's ice storm, there were hundreds of car accidents. Even when a car is going at a low speed or is completely stopped, it can easily slide on ice. 
On the mountainous Stevens Pass in Washington, icy weather has made the route completely non-traversable, even for vehicles built to drive on rugged terrain. Videos show perilous roads with ice up to half a foot thick in some places. It looks like a place that would be nice for ice skating, but certainly not for driving. Because the road was not accessible for the Washington State Department of Transportation's vehicles, the WSDOT team had to use a Sno-Cat to assess the conditions in the pass. 
On Christmas Day, 2022, a state avalanche supervisor recorded a video showing the road. At the beginning of the video, it shows the Sno-Cat vehicle starting to curve. Atop the pavement is what looks like a giant sheet of glass, but is in fact six inches of ice. The WSDOT shared the video on their social media. Many viewers said that they felt nauseous just watching the video. According to one viewer, the road is scary even when the weather conditions are favorable. Others said the video was triggering their fear of heights. 
top weather-related danger in the US is icy roads
According to state officials, freezing rain was to blame for the icy roads. Half a foot of ice is about two times what Department of Transportation road graders are capable of scraping up in a single pass. However, once the WSDOT team managed to scrape most of the ice away, Stevens Pass was reopened. However, this doesn't mean that drivers don't have to exert caution. It's smart for drivers that need to drive on icy and snowy roads to use chains and traction tires. Oversized vehicles should not be driven on icy roads. 
The top weather-related danger in the US is icy roads. They cause around 1,800 deaths, 136,000 injuries, and 536,000 crashes every year. This is over 3.6 times the amount of deaths and injuries caused by other serious weather hazards combined, including hurricanes, floods, heat, lightning, high winds, and tornadoes. Icy weather also causes negative economic impacts and millions of dollars in property damage. The statistics don't lie – icy roads pose a risk to the property and lives of many people that have to drive during the winter. Hopefully, with increased public awareness about these dangers, accidents can be avoided. On this page, we will provide you with some tips for how to safely drive in icy conditions. Although the worst of the ice storm is over, it is still crucial that you know how to stay safe while driving during winter. 
When it comes to icy and snowy weather conditions, the simplest way to avoid getting into an auto accident is to just not drive in the first place. It's not worth putting your life in danger to get to that work meeting or go on the holiday trip you've been planning. You should consider rescheduling or delaying your plans when weather conditions are bad, or when the weather forecast predicts that things will take a turn for the worse. 
If you are already traveling when freezing rain begins, and the road starts to look better for a hockey match than for driving, there are some things that you should remember so that you can safely drive on snow and black ice. Firstly, it's a good idea to review your car's owner's manual to see what warnings are included in it. This may include advice that is specific to the vehicle you are driving. 
When you have proper winter tires that are inflated as they should be, you can stay safer on icy roads. Compared to all-season tires, they are worth it. If the road becomes slick, you should use chains. Even if your vehicle has all-wheel or four-wheel drive, that does not mean you should get cocky. On ice, these vehicles aren't much better than two-wheel drive. Even if you have snow tires, you might not get traction on ice.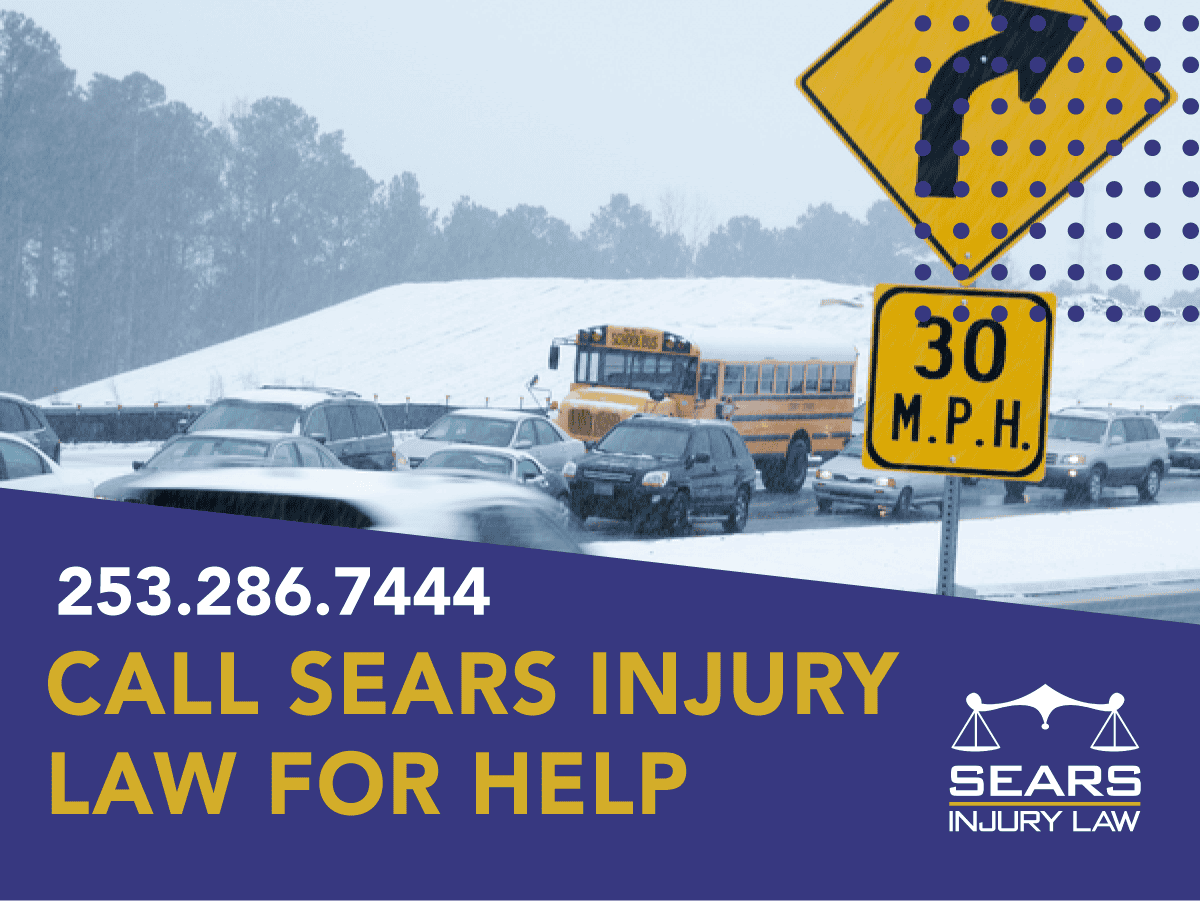 On an icy road, you should drive slowly. This means that if you do end up skidding, you are less likely to cause damage to yourself, other people, or your vehicle. Another tip is that you should put more space between you and the car in front of you. On icy roads, it will take ten times the distance to stop compared to dry roads. You definitely should not attempt to pass other vehicles. If somebody is trying to pass you, you should give them room to do so safely. 
When driving, you should look out for icy conditions on ramps, overpasses, and bridges. When it gets cold, these places are the first to freeze because they're made of concrete. You should also be alert when it's nighttime. Not only is ice harder to see at night, but because it's colder at night, it forms easier. When you are changing elevations while driving, there can be more ice. This is especially true in mountain passes and shaded areas. 
During this winter, Sears Injury Law wants you to stay safe on the roads. If you get a car accident injury, our personal injury attorneys will be happy to help you get the compensation that you need. For excellent Puyallup car accident injury lawyer services, contact Sears Injury Law today so that we can evaluate your case. If you were injured because of another party, we will fight to get justice for you! 
recovering millions monthly
Offices open 24-7
Call Us to get fair and reasonable legal representation for your injury.