The Pain and Injuries Distracted Driving Can Cause 
Have you ever done something that you wish you could take back, but the results of what you did are irreversible? Distracted driving is a careless act that causes irreversible harm and injuries to those directly impacted by the ignorant actions of others. In the year 2020, there were a recorded 3,142 deaths as a result of distracted driving (nhtsa.gov). 3,142 car accident deaths in the year 2020 could've been prevented.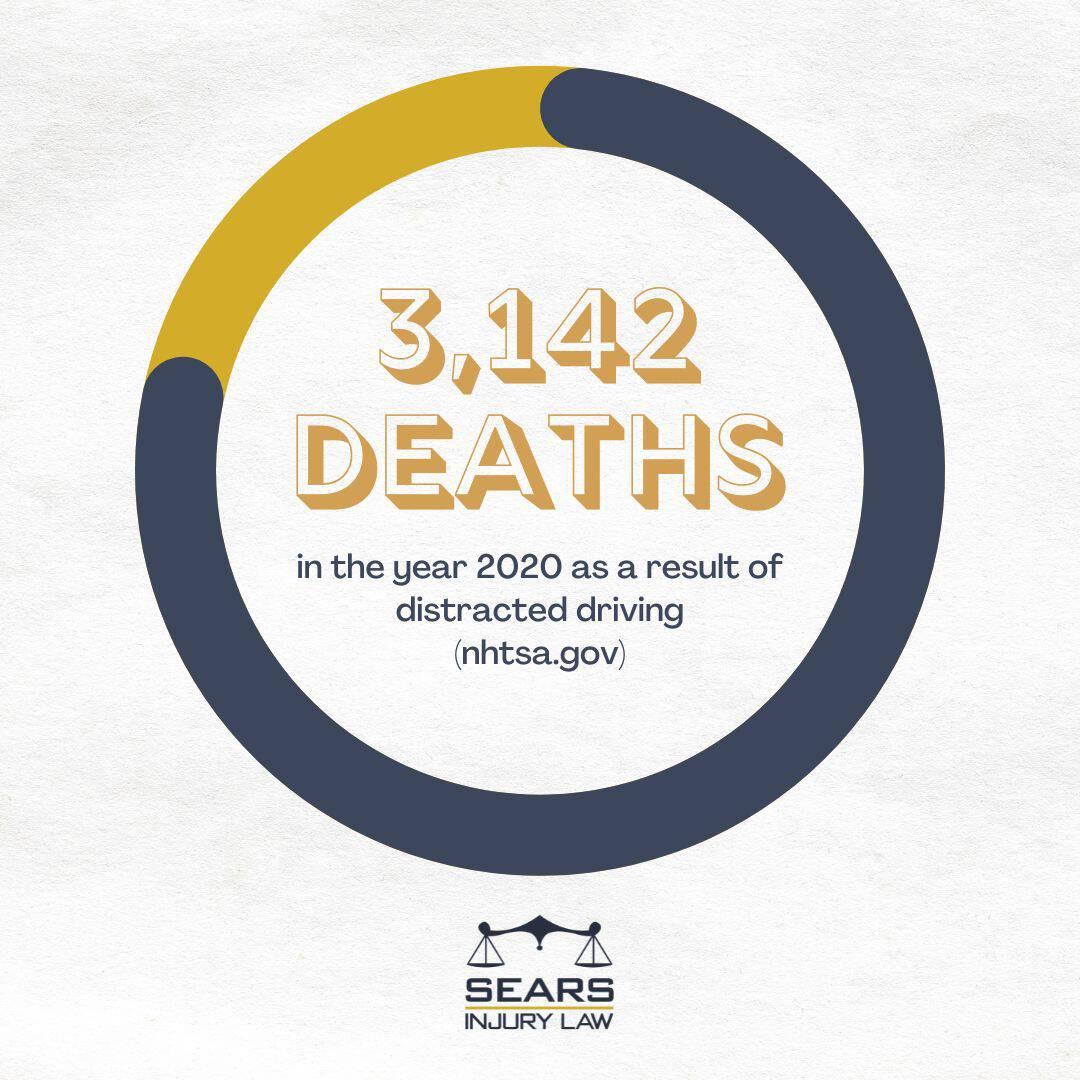 As careless as distracted driving is, different forms of distracted driving aren't as apparent such as using your phone for calling or texting may be. If you have recently been in a car accident and aren't sure how to pursue or take legal action, Sears Injury Law can help you take the steps you need in getting the justice you deserve. 
What does distracted driving entail?
As we said before, distracted driving isn't just calling and texting while driving- it comes in various forms that most people participate in every day. When it comes to distracted driving, it only takes a brief moment of ignorance to make the difference between safe driving and a potentially fatal incident. To properly identify what could be categorized as distracted driving, we have three different topics to break it down:
Hands-off

: a hands-off distraction is anything that causes you to take your hands off of the wheel (i.e. holding a phone, drinking, eating, or multi-tasking such as applying makeup) 

Mental:

thinking of anything else except for the present moment (i.e. getting to work on time, what you'll make for dinner)

Visual

: anything that makes you look away from the road (i.e. a current accident, or a billboard)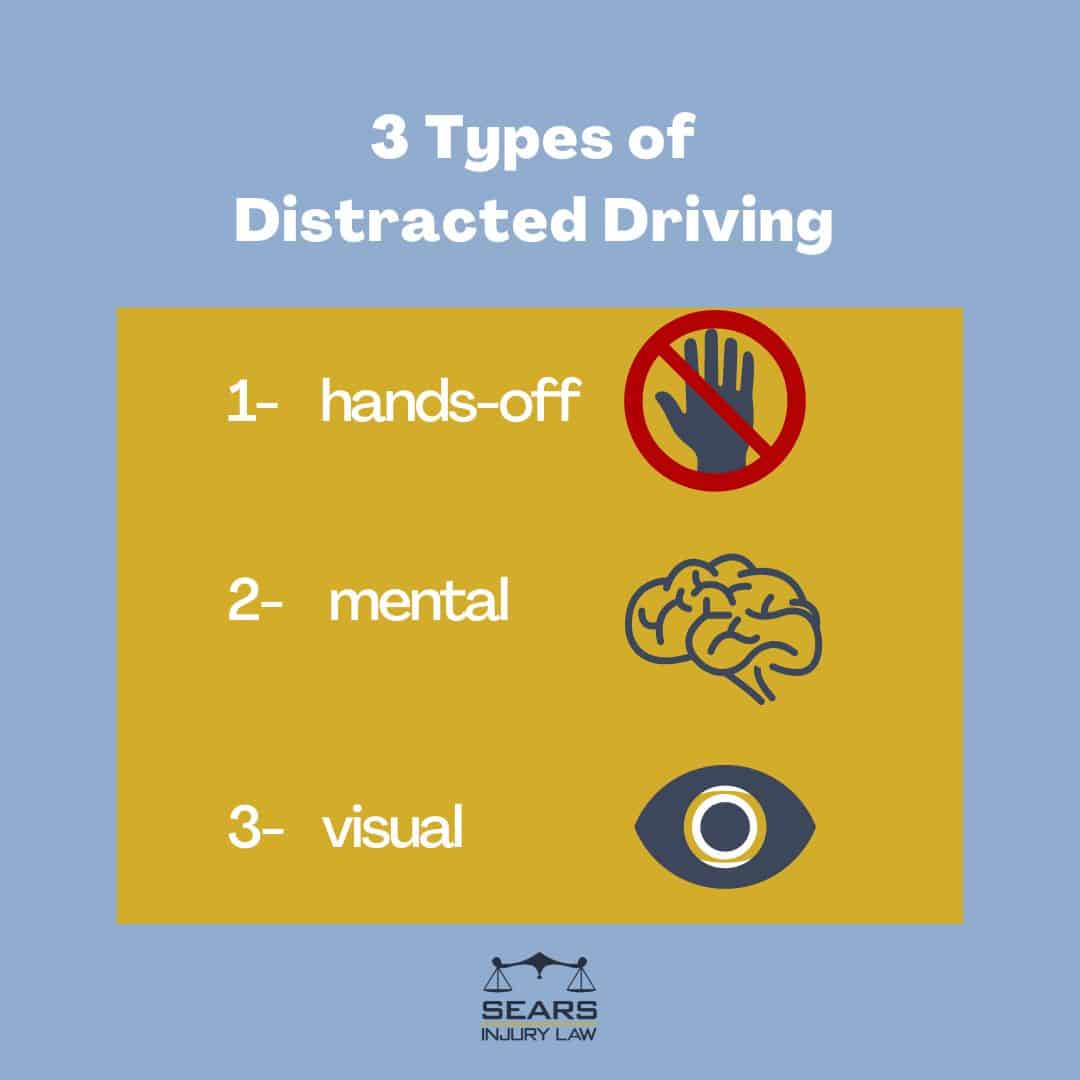 While there are these three categories that can cause distracted driving, the most dangerous form of distracted driving involves all three of them. Texting. Texting while driving uses physical, mental, and visual forms of distraction all at once, preventing you from being focused on everything but driving. Texting also reduces your reaction time. While you may see an oncoming car, or that you have accidentally swerved into the other lane, your awareness is lowered if you are texting as your brain and senses are already preoccupied. 
What injuries can occur from distracted driving in Washington?
While distracted driving can be avoided, so can potential injuries and harm caused to you and others. When a car accident occurs due to distracted driving, it can negatively impact and injure those around you in numerous ways, such as:
Concussions

Internal or external bleeding

Neck or spinal cord damage

Long-term brain damage 

Cuts and hemorrhaging

Fatality 
As each accident varies in severity, so too can the damage and injuries of each person affected. That's why you never want to take the chance of how damaging an injury caused by your distracted driving may cause. If you've been directly impacted by the result of someone else's neglect, you may have heavy costs to cover in medical bills and insurance fees. By pursuing legal action against the liable party, you can have those costs rightfully covered by their insurance. 
What can I do if I've been injured by a distracted driver?
If you were recently injured in a car crash as a result of a distracted driver, you may feel like you've had your health and well-being taken away from you. You shouldn't have to suffer at the cost of someone else's negligence. By hiring an experienced lawyer at Sears Injury Law firm, you will get the legal representation you deserve to obtain the justice you and your loved ones deserve. 
By pursuing legal action with the help of an injury attorney, you can hold the liable driver accountable for their careless actions, and get the compensation you need to help cover your physical, mental, and emotional damages. When you have a lawyer who specializes in injury cases, you can have the assistance you need to validate the damage done to you that isn't apparent to the human eye- such as trauma, emotional strain, reduced quality of life, and mental stress. 
If you are a licensed driver, you immediately hold the responsibility of creating a safe environment for those in your vehicle, and those around you also driving. Driving laws and regulations are set in place by each state to keep drivers alike safe and responsible. By adhering to these laws and regulations, you are avoiding preventable car accidents from happening as a result of distracted driving. 
Hire a car accident legal professional 
Our team at Sears Injury Law firm is eager to help rest your case in the way that you deserve and need so that you can focus on recovering. Just as you were injured by a distracted driver, you shouldn't be distracted from trying to regain your health in handling the legality of your car crash. 
We have over 25 years of combined experience and guarantee you the results you desire by taking a client-centered approach. With experienced and reliable legal professionals, we will effectively and accurately convey to your insurance company all of the information and arguments necessary for a successful resolution. 
We are your advocate against any large insurance corporation and believe in standing up for what you deserve. Without a skilled attorney, we can understand the added pressure of needing to fight for the compensation you deserve. So, don't do it alone! We offer free consultations for all of our clients and will answer any legal questions with our injury law expertise. Call our office at 253-286-7444 to schedule an appointment with our Seattle law firm today! Please drive safely and responsibly!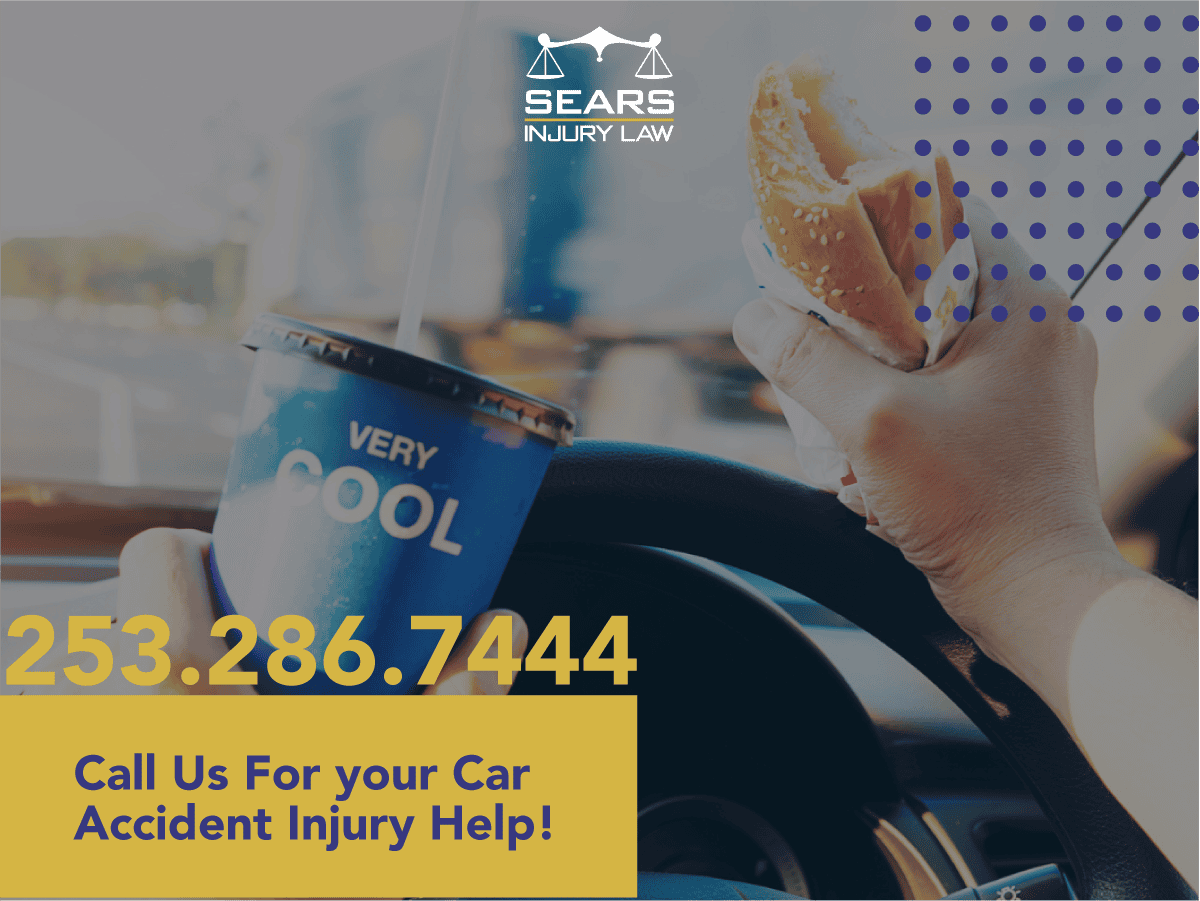 recovering millions monthly
Offices open 24-7
Call Us to get fair and reasonable legal representation for your injury.