Finding the Right Fit for an Injury Attorney 
Anyone who has ever bought any item of clothing online knows the dread of when you try it on, only to find that it doesn't fit them at all. And then begins the tedious process of returning your item, or worse yet, they don't take returns. Unfortunately, if you have gotten into a car accident and are searching for a lawyer to help you make an insurance claim, this also might be the case. 
You can do all the research you want online about an injury law firm, and read all the reviews and testimonials, but until you actually go in and meet with them, you won't know if they are the right fit for you and your case. But, you also have to be careful because some law firms will cost you just for meeting with them, or even if they don't win your case, will still charge you their full rate. Sears Injury Law in Seattle, WA offers 100% free, no-obligation injury consultations for any potential client. We want you to make sure that you feel like we are the right fit for you before any legal commitment. 
Choosing the right attorney
You've recently been in a car accident and you are now wanting to submit a claim for a settlement. To do this effectively and promptly, you understand that you have to hire an experienced and reliable lawyer who will get the job done. The trauma that comes with the experience of a car accident is tolling enough as it is, your experience as an injury attorney should be a pleasant one that leaves you feeling triumphant. 
Characteristic guidelines for choosing a lawyer
As the field of law has become progressively more specific as the years go on, it's important to take into consideration all of the different factors that make an injury lawyer the right fit for your specific case. Depending on the severity of the case, each claim and settlement amount will vary. Insurance claim cases are generally listed as "small claims", meaning that it is a lawsuit happening between two private parties. You want to make sure you choose an injury attorney who specializes in these types of claims. 

Choose someone who is skillful 
Someone can be very knowledgeable about how injury claims work and the process with insurance, but it is only helpful to you if they are skillful in applying that knowledge. To know if the lawyer you're consulting with will be skillful in your case, ask questions such as, "how do you plan on using the facts of my case to help with my claim?" and, "how can you guarantee that I will receive the settlement I deserve?". When you ask thought-provoking questions, you will get a sense of their wisdom and how they will apply what they know to help you. 
Compare and contrast
There is never any shame in getting a second opinion, especially when it regards the well-being of you and your loved ones. By researching different lawyers, their experience, background, and team, you are better able to understand who and who will not be able to help you and be able to meet your needs. Just as you shop for a specific item, finding what fits right on you, looks the most flattering, and is in your price range, you can more proficiently choose which one you like best. While comparing lawyers may take some time to research and consult your case with, it will ultimately save you your money and valuable time. That's why at Sears Injury Law, with our free case consultations for our new clients, we require 100% no obligation or commitment. You can trust that when consulting with us, we are as transparent and helpful as we can be at no cost to you. 
Contact the Bar Association 
If you are having trouble in your own personal search of finding the best attorney for you, you can always contact bar associations to locate different attorneys based on their specialty law. Each state has its own bar association where you can view an "attorney roster search". The three main resources injury law rosters in Seattle are these top three:
mywsba.org

dw.courts.wa.gov

Barassociationdirectory.com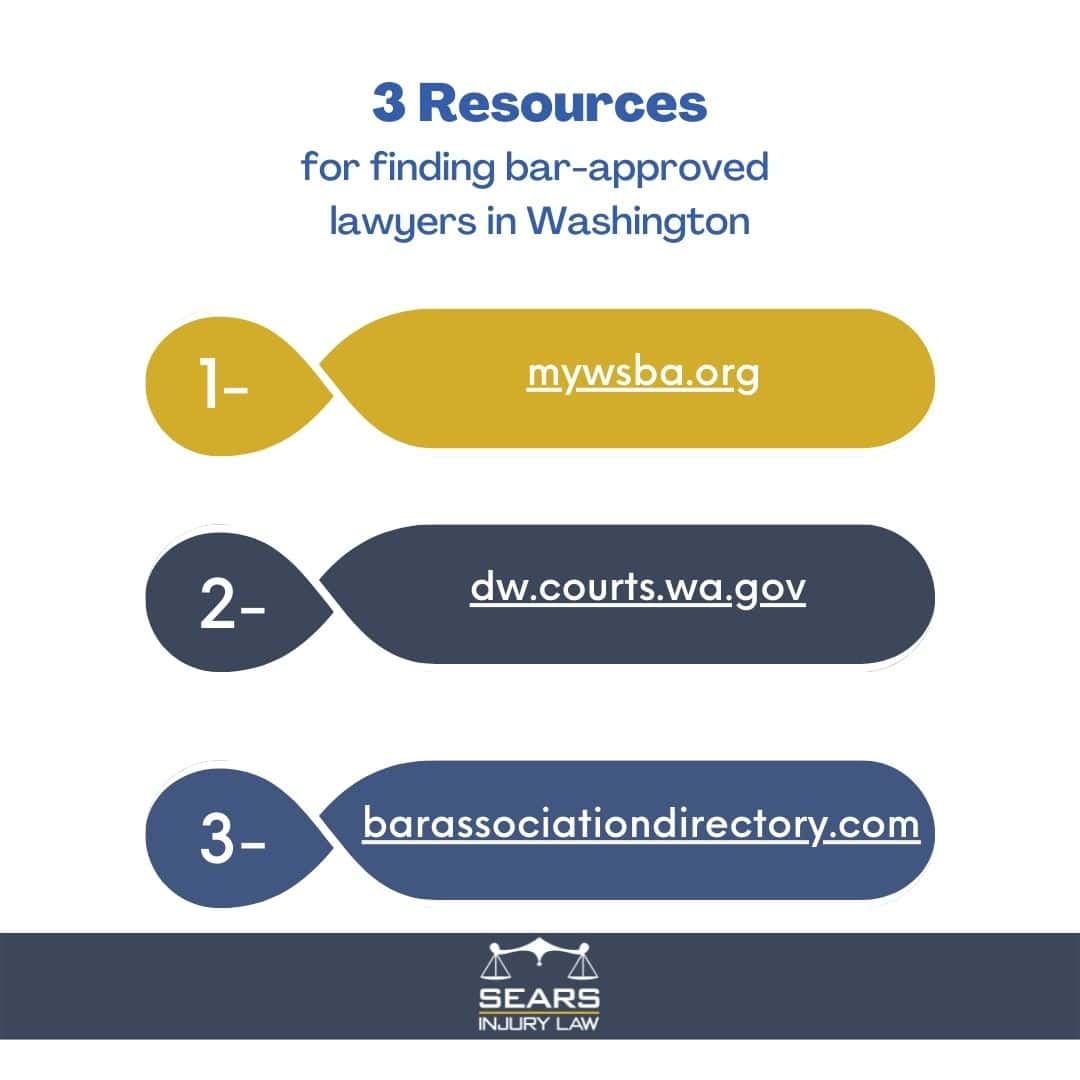 By searching for a bar-approved injury attorney in Seattle, you will find our team at Sears Injury Law as a top qualifier in helping assist you in all your injury claims and insurance settlement needs. 
Is experience valuable to you?
During your search of finding the best injury attorney to help make your insurance claim, it would be wise to ask when looking at all your options, "what value does experience mean to me?". After you are able to reflect on this question, you will find that the legal team you're looking for to help you get the settlement amount you need isn't far. Our team at Sear Injury Law firm has experienced lawyers, paralegals, and investigators. And the goal is the same across the board, client-focused, making you our first priority, always. 
Find the perfect attorney for you
If you or a loved one has recently been involved in a car accident and are looking to make an insurance claim, get the help of injury legal professionals who have years of helping you get the help that you deserve. We have over 25 years of combined injury law experience dealing with cases such as car accidents, property injuries, motorcycle accidents, dog bite injuries, and much more. Our attorneys have practiced injury law in the Seattle area for more than 10 years, and we look forward to continuing to serve those in our community to get the justice they deserve.
 Don't delay receiving your rightful settlement, call our office to schedule a consultation today!