A man was released from prison, and then crashed three stolen vehicles. After a woman died in one of the accidents, he's going back to prison. 
A car accident injury can happen at any time. No matter how safely you are driving, another party's reckless, malicious, or negligent behavior could lead to you getting injured in a crash. Car accidents don't just cause injuries; unfortunately, sometimes they result in death. If somebody causes a person to get injured or die because of their actions, they need to be held accountable to ensure that nobody else suffers the same fate. At Sears Injury Law, we have many years of experience in helping people get justice for themselves and their loved ones. 
A 25-year-old man named Tyler Townsend was sentenced to serve twenty years in prison. He crashed a stolen SUV into another car, killing the woman inside it in the process. When the accident happened in September 2022 in Eastside Tacoma, he was speeding through a stop sign. According to Pierce County court records, on January 27th, 2023, Townsend plead guilty to vehicular homicide, two counts of car theft, and failure to stay at an accident that resulted in death. On Friday, February 24th, 2023, Townsend was sentenced. 
Tyler Townsend has an extensive criminal record for somebody of his age. At the time of the fatal crash, he had been free from prison for not even a whole year. In Puyallup, he stole a 2022 Kia Sportage. Only a day later, just after three in the afternoon, he crashed it into a 2014 Dodge Avenger. Court records state that the accident happened at East 34th and D streets. 
When the stolen SUV hit the front driver-side of the Dodge Avenger, it was traveling at 62 miles per hour. The crash was so forceful that it caused the SUV to flip onto its roof. The vehicles involved came to a stop in a nearby planting strip and yard. The crash was described by a Tacoma police officer as a "catastrophic collision" in a charging document that was filed against Townsend after the crash.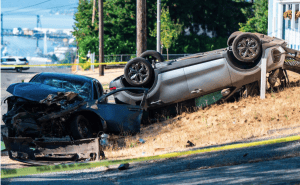 The driver of the Dodge Avenger, a 31-year-old woman named Jenessa Sjogren, was pronounced deceased at the scene by emergency medical personnel. The official cause of death was multiple blunt force injuries. She will be missed by her loved ones, whom she was taken from too soon. Authorities say that her vehicle had Texas license plates on it. Her car was completely totaled. 
When law enforcement arrived at the scene, they found the SUV empty. Townsend had fled on foot. While fleeing, he left behind one of his Adidas shoes, and his cell phone. As part of their investigation to determine the identity of the person responsible for the accident, police officers spoke with witnesses. They also reviewed surveillance video. Some of the footage was from the Puyallup retirement home where the SUV had been stolen from a day prior. Two weeks after the car accident, authorities got an anonymous tip from one of Tyler Townsend's family members. 
The investigators focused in on Townsend. He had been hospitalized in a Vancouver, Washington hospital after a later, separate crash from the fatal one. This crash involved another stolen vehicle and happened on Interstate 5. Authorities paid a visit to Townsend at the hospital, and took cheek swabs so that they could test his DNA. When Townsend learned that Jenessa Sjogren had died in the crash, he was reportedly emotional. He said that he wanted the victim's family to know that the vehicular homicide was not intentional, according to a detective. 
Townsend told authorities that he was struggling with an addiction to methamphetamine. After a 2017 conviction for 19 felonies (including first-degree burglary, eluding police, and vehicle theft), he had been sentenced to serve over seven years in prison. Within three months of getting let out of prison, Townsend was already getting into serious trouble. In January 2022 in Pierce County, he crashed a stolen car. He got charged with obstructing an officer and possession of a stolen vehicle, and was released on $75,000 bail. As part of the plea bargain in the more recent vehicular homicide case, those charges were dismissed. 
The Federal Highway Administration states that about 40 percent of car accidents happen at road intersections. The cause of these accidents usually has something to do with running a stoplight or stop sign, like what happened in this case. When it comes to a wrongful death accident, it's important that the victim's loved ones fight for justice. 
It's vital to a wrongful death claim's success that you hire a personal injury attorney with experience. At Sears Injury Law, we have the resources and expertise to successfully win you as much compensation as possible. After what happened, it is important that you have a professional help you pursue justice. Our team is ready to help you every step of the way. 
Family members and loved ones of wrongful death victims can seek damages for pain and suffering, funeral costs, emotional distress, loss of companionship and income, and more. It's important to get the help that you need so that you can properly process your grief without dealing with extra stress. We understand how overwhelming everything can be after losing a loved one in a tragic accident, and our team is here to help you through. We are passionate about helping victims and their families, and we want to make sure that your rights are protected and your best interests are looked out for. 
If you are looking for a car accident attorney in Puyallup or a wrongful death attorney, reach out to Sears Injury Law today. We will provide you with a free consultation and value analysis for your case. We make sure to communicate frequently with our clients so that we're always on the same page. Our office specializes in personal injury law, and we have helped many clients with situations similar to yours. Instead of attempting to handle your own claim during this difficult time in your life, entrust it to Sears Injury Law's experts.