Fatal Car Crash Injury Lawyers
A twenty-five year old Puyallup man was involved in a fatal two-car crash on the afternoon of Saturday, September 17th, 2022. The collision happened on Pacific Avenue in the Parkland area, and a woman was killed in the crash. According to officials from the Washington State Patrol, the man fled the scene of the wreck on foot. 
Trooper Robert Reyer said that the Pierce County Sheriff's Department, with help from the Washington State patrol, later found the driver who ran away from the scene and took him into custody. The man, who is local to the region, will be booked into jail because of suspicion of eluding, vehicular homicide, and felony hit-and-run. Prior to the crash, his license had been suspended, and he had a warrant out for his arrest. 
It is estimated that the crash itself happened at around 3:10 pm at 143rd Street South on the state route. According to Trooper Reyer, the woman who was killed was driving a sedan. When she was turning left in order to go south from 143rd Street to Pacific Avenue, the other driver (who was also in a sedan) collided with her vehicle while going north. There were no other occupants in the vehicles involved in the accident. Investigators have not confirmed yet whether impairment or speeding were factors that could have led to the crash, but it is likely that this will be determined in the future. 
Trooper Reyer stated in a tweet that Central Pierce Fire and Rescue, the Washington State Patrol, the Pierce County Sheriff's Department, and the Washington State Department of Transportation all responded to the accident. The woman driving the car that was struck was quickly taken to the hospital, but sadly she succumbed to her life-threatening injuries and was pronounced dead. Trooper Reyer said that the hearts of everyone that responded to the crash go out to the family and friends of the deceased. 
Pacific Avenue was completely blocked off from traffic in both directions while responders were assessing the scene and gathering evidence. At around 5:40 pm on the same day, traffic was being guided around the wreck at 146th and 136th streets south. Trooper Reyer stated that the Sheriff's Department deputies scouted the surrounding areas and were able to locate the driver responsible for the tragic crash. 
This car accident was the second within two days in Pierce County that was a fatal hit-and-run. On Friday, September 16th, a driver hit a motorcyclist on state Route 16 and killed him. The crash happened in Tacoma, and involved three different vehicles. One of the drivers fled the scene of the accident on foot. Later on that same day, troopers were able to find and arrest a 30-year old man on suspicion of being to blame for vehicular homicide. 
Deadly car accidents can happen at any time because of negligent, reckless, or malicious drivers. Even if you are driving safely and defensively, somebody else's behavior could lead to a crash. If you or a loved one was injured in a personal injury accident, or a loved one was killed in a wrongful death accident, Sears Injury Law can help you. We are experienced in helping people with cases similar to yours, and know how to handle things properly. Our experienced Puyallup personal injury attorneys know all the intricate ins-and-outs of the claims process. 
When somebody dies, and it is another person's fault, such as in a fatal car accident, the surviving family of the deceased should consider looking into filing a wrongful death claim and pursuing justice. Wrongful death cases seek compensation for damages such as funeral costs, lost wages, lost companionship, and more. Our experts at Sears Injury Law can give you the rundown of what wrongful death claims are, and we are happy to answer any questions that you may have. 
People are able to file a wrongful death claim when their loved one dies due to another party's legal fault. The right to file for wrongful death is actually fairly recent. Common law, which are the laws that the American colonists originally took from England, did not include wrongful death lawsuits. During the last 100 years, federal and state courts established the right to pursue a wrongful death claim. Every state in America has some sort of law pertaining to wrongful death situations. 
Wrongful death claims encompass a wide variety of fatal accidents, from medical malpractice cases to car accidents. Parties such as governmental agencies, companies, and individuals can all be at fault if their negligent actions, failing to act, or intentionally acting recklessly led to the death of another person. Set up a free consultation with Sears Injury Law, and we will go over your situation with you to determine if you have a wrongful death claim on your hands. 
Wrongful death claims have to be filed by a representative of the real parties in interest, which are survivors who suffer damages because of the decedent's wrongful death. Some of the people that can be considered real parties in interest include immediate family members, distant family members, all people who suffer financially, putative spouses, life partners, and financial dependents. Immediate family members include children (adopted and biological), spouses, and parents of unmarried children. Sometimes, more distant family members such as siblings and grandparents can file wrongful death claims. In some states, even if people are not blood related or married to the person who died, they may be allowed to bring wrongful death action because of lost financial support. In some situations, people such as a life partner, domestic partner, anybody who was financially dependent on the person who died, or a person that believed in good faith that they were married to the wrongful death victim, have a right to recover damages.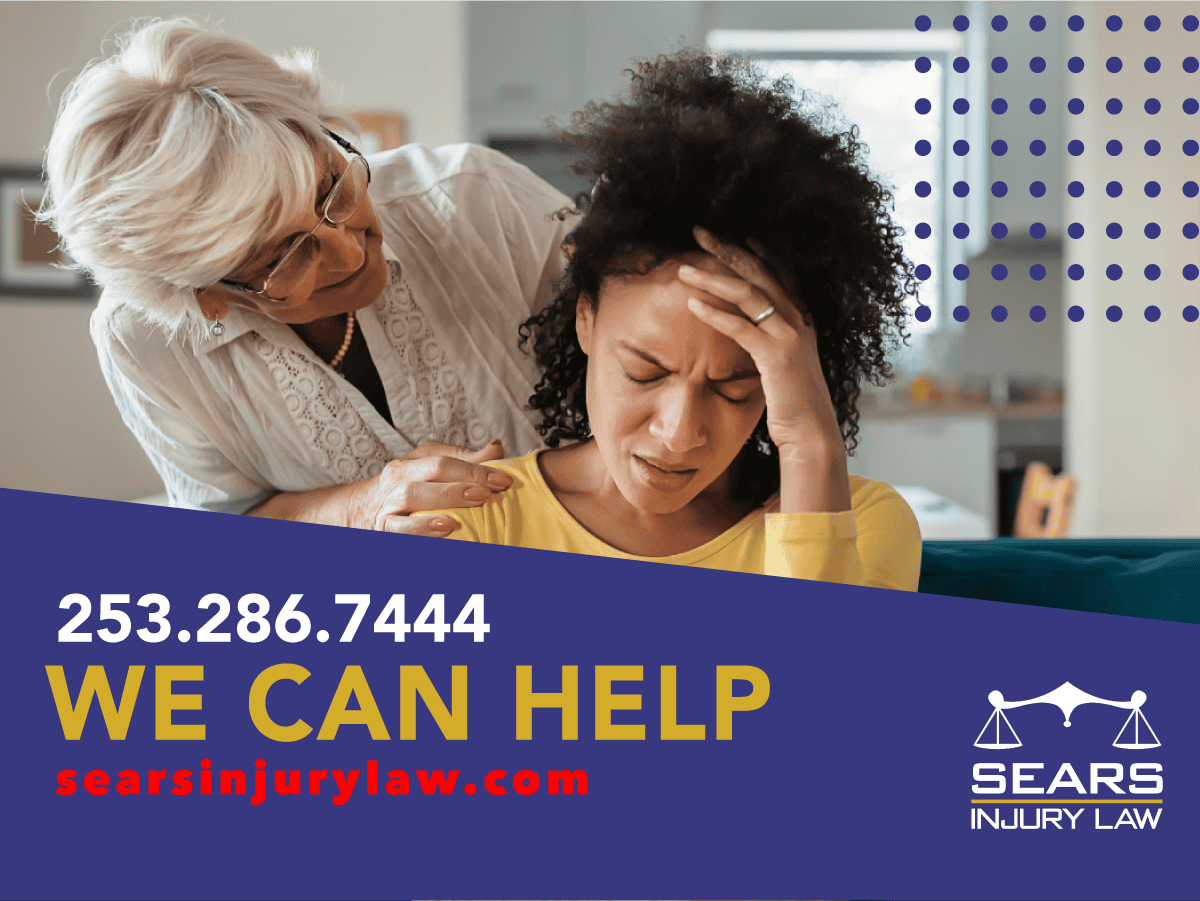 When you speak to Sears Injury Law of Puyallup, we can help you determine if you are entitled to compensation. Reach out to our car accident lawyer puyallup to find out how we can help you get justice for your loved one's wrongful death.
recovering millions monthly
Offices open 24-7
Call Us to get fair and reasonable legal representation for your injury.